The soloists of the Osimo Lyric Art Academy return to make music in Osimo, as part of the summer events of "Musical Meetings at the Cloister" jointly promoted by the Municipality of Osimo, by the Campana Institute for Permanent Education, by Academy of Lyric Art, from the Marche Regional Orchestra Form-Foundation in collaboration with the ASSO Special Company. "Opera, Operetta, Canzone" is the title of the event which presents itself as a journey through the music of Mozart, Rossini, Donizetti, Verdi, Offenbach, Lehàr, conducted at the piano by Alessandro Benigni.
The concert is dedicated to the memory of Alessandro Candelari, a young Avisino who died prematurely three years ago in a tragic car accident. Alessandro loved music: for this reason his family decided to set up a scholarship that bears his name. In 2018 the scholarship was awarded to the soprano Tsisana Giorgadze, last year to the soprano Maria Sardaryan while for 2020 the choice fell on the Polish soprano Zuzanna Klèmanska, engaged in the two-year academic year for vocal specialization studies in Osimo. The young artist, after sustaining her studies at the Łódź Academy of Music, successfully embarked on her career singing in the role of Fatima, in the Polish preview of CM Von Weber's "Abu Hassan" at the Grand Theater of Łódź, and of Venus in Offenbach's "Orfeo all'ferno", as well as participation in some international competitions. The scholarship will be awarded during the concert.
For information IAT Information Tourist Reception Tel. 071 7131823
Advance sales required at the La Nuova Fenice Theater ticket office – info 071 7231797
Thursday 20 August from 17 to 20 and Friday 21 August from 17.00 to 21.00.
Numbered seats – Single admission € 2.00
Obligation to wear a mask at the entrance
In case of bad weather the concert will be held in the Basilica San Giuseppe da Copertino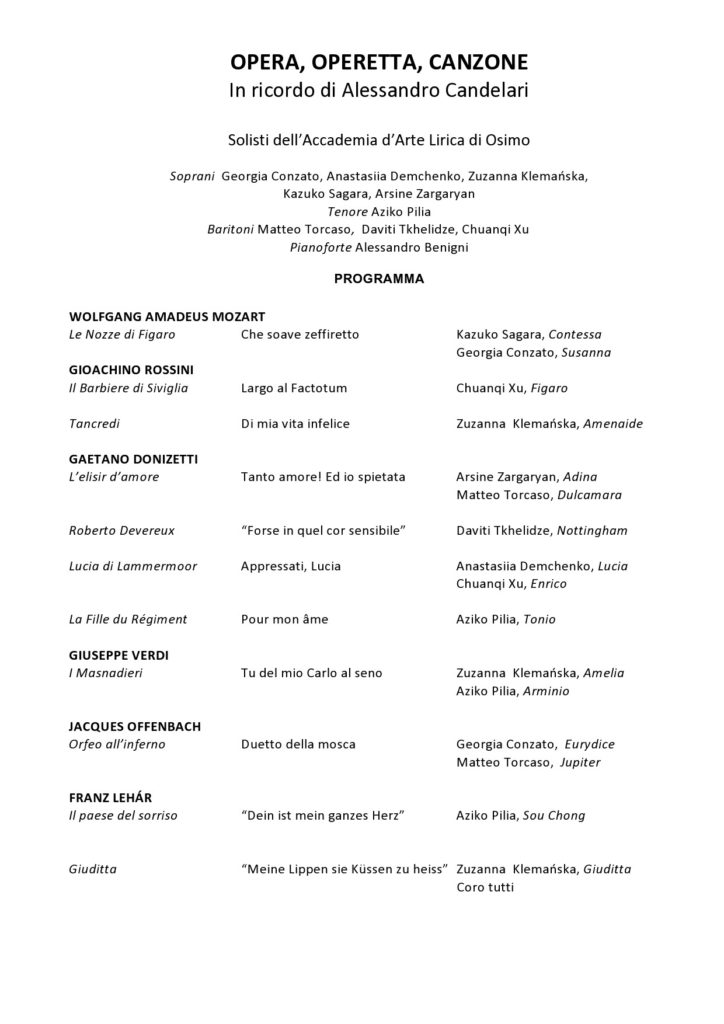 "Opera, Operetta, Canzoni" with the soloists of the Academy of Lyric Art of Osimo in memory of Alessandro Candelari