The soloists of the Osimo Lyric Art Academy continue to make music in the municipalities affected by the earthquake, as part of the project "Marche inVita – The live show for the rebirth of the earthquake", which multiplies the initiatives in the regional territory, by the Marche Region, in collaboration with Consorzio Marche Spettacolo and AMAT, as part of the actions in support of the areas of the Marche affected by the seismic events of the summer of 2016.
The second event will be held on Sunday 23 August, at 9.15 pm, in Montalto delle Marche, in the frame of the Belvedere of Palazzo Paradisi: "Opera, Operetta and Canzone" is the title of the musical meeting that will see the young soloists, with the pianist Alessandro Benigni, propose a program that will range from Mozart, Rossini, Donizetti to Verdi, Arditi, Lehàr, Offenbach. Alongside arias, duets and opera scenes, parlor romances, songs and passages from the French and Danubian operetta will be performed.
An opportunity to meet the young talents of the Academy of Lyric Art, which has been involved for over 40 years in perfecting opera singers from all over the world. Admission is free. Reservations are recommended at the Tabuno tobacconist of Di Stefano Marta (0736/828559) and the Montalto delle Marche Tourist Office (3298050027). Obligation to wear a mask at the entrance.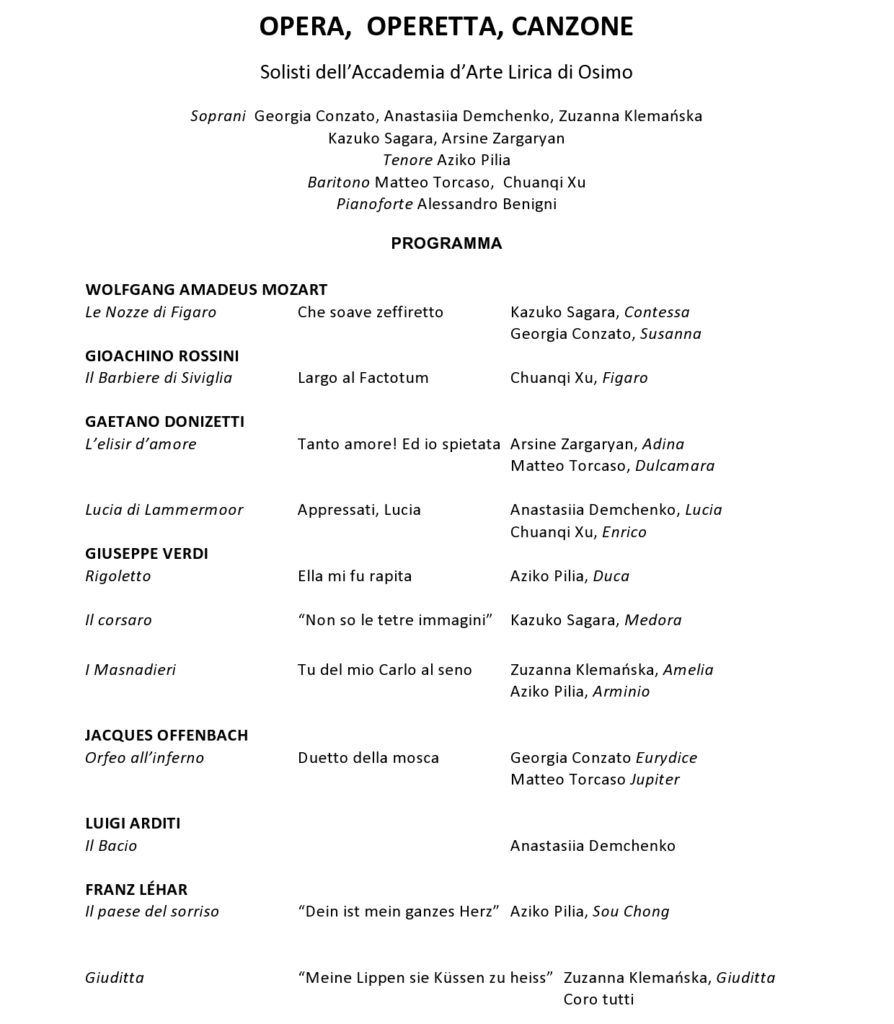 The Academy of Lyric Art of Osimo in Montalto delle Marche for "Marche inVita – the live show for the rebirth of the earthquake"