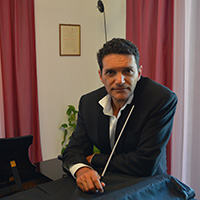 I completed my musical studies at the Conservatory "G.Rossini" in Pesaro, graduating in 1988 in pianoforte with the highest marks and with Honours. Following on from this I completed a Diploma in Orchestral Direction at the "Reale Accademia Filarmonica" in Bologna.
For more than 20 years I have taught at the 'Accademia d'Arte Lirica' in Osimo (AN) and have wide experience in the field of Lyric Opera as well as having worked with famous international artists such as Joan Ponce, Renato Bruson, Marcelo Alvarez, Giorgio Merighi, Gianfranco Cecchele, Valeria Esposito, Amarilli Nizza e Dimitra Theodossiou. From 1998, as Musical Director for staging and also as pianist, I have collaborated with some of the most important Italian Opera House as well as Opera House abroad : "Le Muse" in Ancona , "G.Verdi" di Sassari, Teatro Municipale di Piacenza, Teatro Comunale di Ferrara, "Regio" di Parma, "La fenice" di Venezia, Teatre Principal di Palma de Mallorca (Spain), "Campoamor" di Oviedo (Spain), the season of Lyric Opera at the Ravenna Festival.
From 1994 to 2004, in collaboration with the University of Music of Showa , Tokyo, as Master of the repertoire I was also responsible for the musical preparation of lyric operas . Even now I collaborate with The University of Music, Senzoku, also in Tokyo.
In 2011 I was invited by the "Bolshoi National Theatre" of Minsk (Bielorussia) to rehearse singers for the production of 'The Barber of Seville' by Rossini.
In addition I have collaborated with many conductors including: Riccardo Muti, Bruno Bartoletti, Julian Kovatchev, Maurizio Barbacini, Giuliano Carella, Bruno Campanella, Paolo Arrivabeni, Massimo Zanetti, Nicola Paszkowski, Francesco Lanzillotta, Sergio Alapont e con i registi: Pier Luigi Pizzi, Paolo Panizza, Cristina Mazzavillani Muti, Michele Mirabella, Ivan Stefanutti, Joseph Franconi Lee, Lamberto Puggelli, Paul Curran, Daniele Abbado, Pier'Alli.
In 1996 I had my debut as Conductor when I conducted Mozart's "Kronungsmesse" .This success was followed by many concerts and Lyric operas.
In 2009 , during the Opera season, conducted the opera "La Cecchina" by Niccolo Piccinni in the Opera House "G. Verdi" in Sassari.
In 2011 I conducted "Il giovedi' grasso" e "Elisir d'amore" di G. Donizetti, at the Opera House "Maeda Hall" in Kawasaki (Japan), returning in 2013 to conduct W. A Mozart's "Don Giovanni" .
In 2014 invited by the "Opera National de Lorraine" in Nancy (France) as conductor'assistant of the orchestra for the world premiere of "Il medico dei pazzi" by Giorgio Battistelli.
In June 2015 conducted Carmen "Ri/leggere l'opera" at the Opera House "La nuova Fenice" di Osimo (AN), the first performance of the reinterpretation of Bizet's opera with an instrumental ensemble under the guidance of Alfonso Martone.
In February 2016 invited once again to conduct the opera "Le nozze di Figaro" by W.A. Mozart at the Maeda Hall in Kawasaki (Japan).