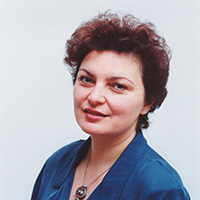 Ala Simoni was born in Georgia. She graduated from Tbilisi State Conservatoire named after Ivane Sarajishvili as a pianist and an opera singer. She held her Bachelor's of Music Degree from The Internetional Osimo Opera Art Academy and then in the International Academy di Canto named after Renata Tebaldi and Mario Del Monaco in Pesaro, Italy under the guidance of such maestros as Mario Melani, Antonio Tonini, Alberto Zedda, Vera Bertinetti, Sergio Segalini, and got the Master's degree at the Conservatorio Statale di Musica G.Rossini Pesaro.  Ala  is a winner of International Competitions among which are the International Johann Sebastian Bach Competition (Leipzig, Germany), the International Competition Giacomo Lauri Volpi (Latina, Italy), the International Singing Competition "Castello di Duino" (Trieste, Italy). Her career developed throughout Europe as well as the Republic of South Africa, South Korea and Japan. 
Her opera repertoire includes the title roles in Lucia di Lammermoor, Donizetti; Alcina, Handel, as well as Cleopatra in Giulio Cesare; Electra in Idomeneo, Donna Anna in Don Giovanni, Rosina and Susanna in The Marriage of Figaro, Sifare in Mitridate Re di Ponto, Mozart; Amenaide in Tancredi, Rossini; Elvira in I Puritani, Bellini; Violetta in La Traviata,Verdi; Mimi in La Boheme, Puccini, etc. From her symphonic repertoire can be distinguished such religious works as Messia and Risurrezione by Handel and Passioni by Bach, Stabat Mater by Pergolesi, Boccherini, Rossini, Szymanowski; Requiem by Verdi and Mozart, and solos in symphonic literature like in Carmina Burana by Carl Orff, 4th Symphony by Mahler, 14th Symphony by Shostakovich, Das Marienleben by Hindemith, etc. Ala Simoni collaborates with various recording companies and has already released a number of music recordings, such as:
– Armida Immaginaria, Cimarosa (Eric Hull), and Roland, Picinni (David Golub) – DINAMIC, Italy;
– Re alla Caccia, Galuppi (Giulio Svegliado) – Papergraf Milano per La Scala, Italy;
– Passioni di Gesu Cristo, Paisiello, Europe, Beethoven, La Riconoscenza, Rossini (Diego Fassolis) – RTSI, Switzerland;
– 14th Symphony by Shostakovich (Rudolf Barshai) – WDR, Germany;
–  Integrali degli Oratori, Carissimi (Flavio Colusso) – MusicaImmagine Records, Italy;
–  La Risurrezione di Lazzaro, Perosi (Salvatore Silivestro) – Pro Civitate Christiana, Italy. 
Since 1997 she has been working as a voice teacher in the International Osimo Opera Art Academy, the International Academy di Canto in Pesaro, Italy, and Tbilisi State Conservatoire as an invited part-time professor of vocal art. Ala is a permanent member of the Jury of International Singing Competitions. She regularly gives master classes, and, in collaboration with the International Academy del Canto Lirico in Gubbio, Italy she staged such operas as there Serva Padrona by Pergolesi, Bastian e Bastiana by Mozart, L'Elizir d'Amore by Donizetti. Working with the young singers, she helps them to prepare for their future theatrical career. For a number of years she has been cooperating with the State Academic Theatre of Astana named after K.Baiseitova, Kazakhstan. She works there as a coach-repetiteur and singing coach, and has already prepared the soloists for such performances like La Boheme and Manon Lescaut, Puccini and Les Contes D'HoffMann, Offenbach.